Linksys WRT 54GC
The C is for Craptastical
OpenWRT page another WRT54GC page
Box Specs
Standards: 802.3, 802.3u, 802.11g, 802.11b
Ports/Buttons
* Internet: 10/100 RJ-45 * LAN: Four 10/100 RJ-45 Switched
Power Port (Power supply is 3.3V 2 Amp / Takes 100-240 50-60hz)
One SMA Port (actually Reverse SMA)
One Reset Button

LEDs: Power, Internet, Wireless, Ethernet (1,2,3,4)

Dimensions: 3.86" x 3.86" x .98" (98mm x 98mm x 25mm)
Features
Dissasembly Pictures
It's a squeeze and pull with one screw located under the rubber foot to the left of the FCC-ID
Here's a bad phone camera picture (hosted on iMob) to give you an idea of how small this is. Better pictures soon.
Note the flip-out reverse SMA connector. The red and black wires are connected to a switch to turn on the external antenna.
High Res Pictures.
Here's a shot with the heatsink off.
Back - What are the connectors for ?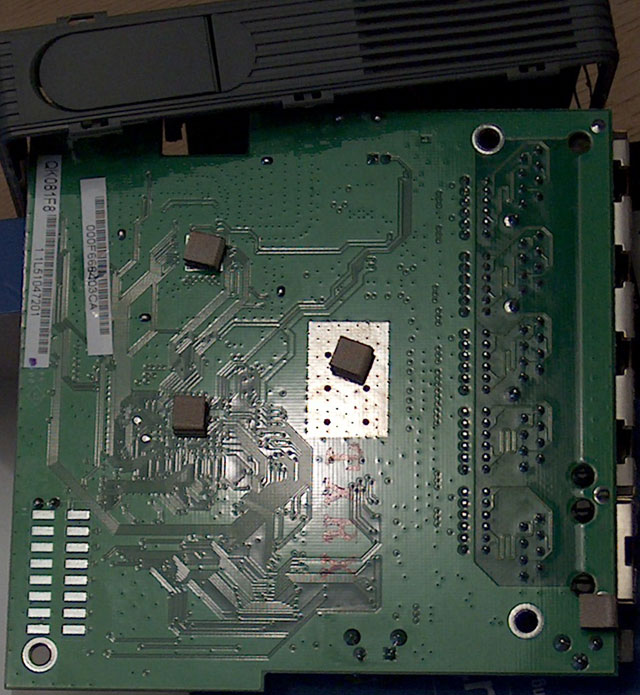 Chips
CPU: Marvell 88W8510-BAN ARM processor
Ethernet: Marvell 88E6060-RCJ
RAM: 2 x V54C316162VCT6 chips, 4MB RAM total
Flash: 26LV800TTC-55
It's likely a Marvell Libertas home gateway. Here's a PDF.
Boxes with similar hardware
Airlink 315w+ : It seems to have an eCos kernel.

Asus WL530g : It seems to be an uClinux box. GPL Code (Mirror) GPL Code from Asus Wiki

Hawking HWR54G: Uses the same cpu/ethernet chips with a flash and two memory, not sure of the os...

Belkin F5D7230-4, FCC K7SF5D7230A: same cpu/ethernet/flash/ram, no idea about the os yet
Firmware
Stock Firmware
Stock Firmware has basic AP functionality with addition of WPA/WPA2 Personal. No client bridging or WDS. Downloadable versions are compressed using the same "aDmBlK=" scheme as the Netgear WGR614v1.
Custom Firmware
It's new. We're checking out what this will run.
Perhaps uCrouter?
Buying One
Amazon $66.99