(aka BiQuad)
<-- Back to DirectionalAntenna
A biquad is a fairly powerful antenna which is relatively easy to construct, with impressive performance for their size. A link greater than 5 miles can be made with a pair of these as a stand-alone antenna and a Prism2 100mW card, provided you keep coax short, and your line-of-sight is clear.
The fairly wide beamwidth of a biquad makes it ideal for stumbling, and also makes p2p links easier to setup, as the alignment isn't as critical. The 3dB beamwidth of a biquad is typically about 40-50 degrees.
They can be used as a feed for a dish, or can be used stand-alone.
See also: the homebrew SardineCanAntenna design.
Links:
Images: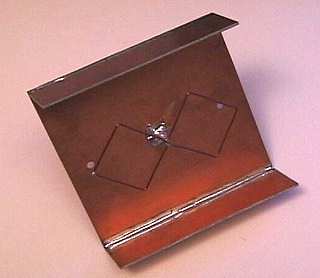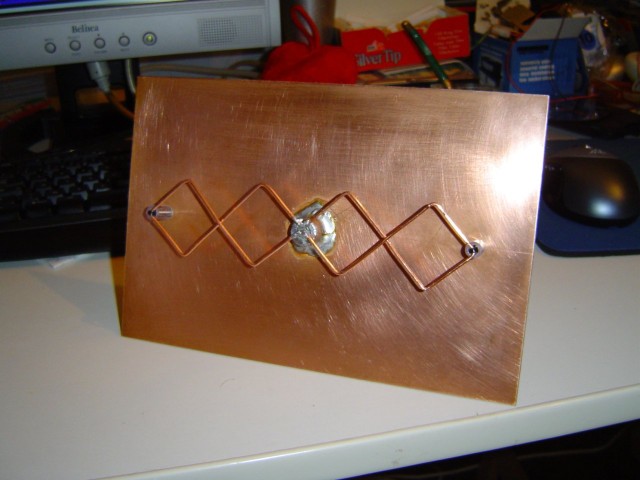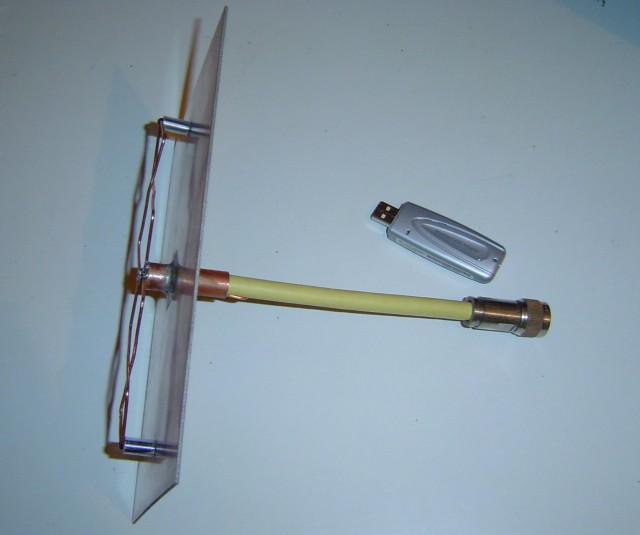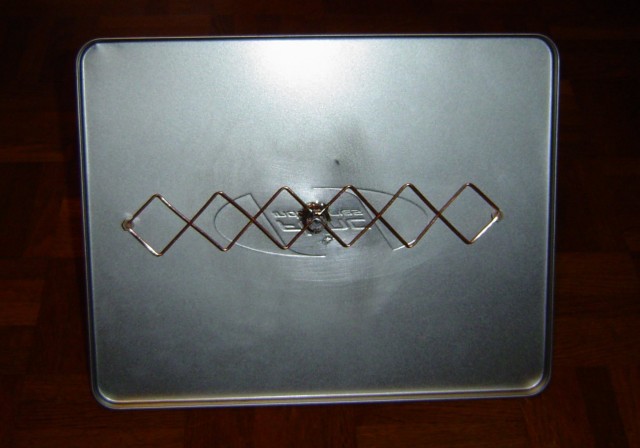 There's also the homebrew SardineCanAntenna design.
---
A bi-quad like this fits perfect in a Deep Dish Glad container.
There is enough room in there to fit a small Belkin F5D6050
-Eric h.
btw: What type of wiring did you use?
Standard RG-58U coax. There is less than 10 in. on this antenna. -Eric h.
ru: Could you possibly tell me how you solder the cable to the Belkin usb? did you need any additional component as a smd condenser? what did you do with the second antenna? thanks
What is the typical gain for this design?
The biquad has a gain of 11dBi, but these are the best for mounting onto a dish for extra gain. For a higher gain version, have a look at the double biquad, which has a gain of approx 13dBi.
Can i use BNC Connectors or PL-259 Connectors used in hamradio? I cant find any N connectors available here in our country.
You can, but BNC's and PL-259(UHF?) will be very lossy at 2.4Ghz. TNC's are a good bit better, Type-N are the best bang for the buck. Connectors should be pretty easy to import. Just order them from a US mail order company.
Will a double biquad design for the element work better on a dish rather than just a single?
I think the double biquad has a wider divergance on the long axis (although this is a guess) - if this is the case the beam may be wider than the dish used. This "overflow" will cause a lower SNR due to any interfering signals/noise sources behind the dish. The double biquad does, however, offer a larger on-axis signal, however I think you will be better off investing your time on a stacked design (there are a few floating around online, however I don't have any links handy, sorry :-s). I hope this helps
Is there a need for N connectors at all ? What about connecting the quad to 2-3 meters long coax (terminated by RP-SMA) directly ?
No, there is no need for a N connector.